Part Number : RUN31A21
Function : Telemecanique RUN31A21 BD Relay Coil 24VDC with RUZ1A base
Maker : Telemecanique

Pinouts :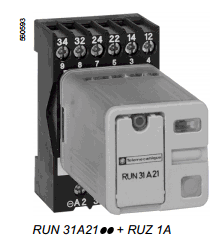 Description :
Zelio Relay plug-in relays
RU universal relays
■ Choice of plug type (universal/flat tags).
■ Extremely wide power range.
■ Adaptable to all common voltages.
■ Adjustment by manual control, LED relay state display.
■ Possibility of paralleling simplifies data processing.
■ Fast and easy "plug-in" interchangeability.
■ Simplicity; no adjustment required in normal use.

RUN31A21 Datasheet PDF



Others datasheet of same file : RSB1A120, RSB1A160, RSB2A080, RSZE1S35M, RSZE1S48M